We have noticed that these premature damages of covers are often due to the accumulation of water, from rain, which break open the cloth.
A solution would be to create a slope such as a tent canvas to evacuate the water. But this solution means high tensions in the cloth and an important windage.
-> The Nautisails solution :
We have set up and patended an innovative system to evacuate this water.
The water which stays on the rear part of the cover is evacuated through a grid connected to a sleeve which leaves the dinghy at the back of the boat.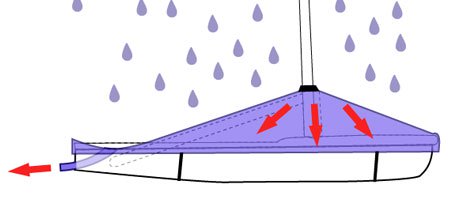 Set up :
1- Fix the boom on the mast and put the downhaul to keep it in place
IMPORTANT : the back of the boom must be at the bottom of the boat.
2- Place the cover, start by fixing it to the mast
3- Then install the front part of the cover
4- Place the rear part, placing the sleeve through the trap at the back of the dinghy
5- Finally, fix the cover with lateral and bottom straps.